Without a doubt, one of my most popular projects has been my DIY Acrylic Curtain Rods.  (some people say lucite, some say acrylic - potatuh, potatah)  So imagine my feelings one night when I am searching for hardware for our Master Bath renovation, and I come upon an image of this.
[caption id="" align="aligncenter" width="300"]
brass pipe clip[/caption] Do you see what I see?  I instantly thought "I CAN MAKE SOMETHING WITH THIS!"  Originally, I was thinking I could put brass rods through these to make some killer hardware, but then I pondered acrylic.  It would definitely be cheaper, and since the pipe clips are a little more bulky and industrial looking, perhaps that would be the perfect combination of mechanical and sophisticated. This is a rather convoluted story, but follow me on the struggle for an idea to come to fruition... So the next day, I called up my local plumbing supply searching for brass pipe clips.  They did not have them, never heard of them.  I called several others...nothing.  No one seemed to have ever heard of pipe clips; rather, pipe clips that were brass (aka pretty).  Finally, I got my answer after calling yet another plumbing supply store (and after he laughed at me when I told him I was looking for brass pipe clips).  After sending him the picture, he said, "Oh, these are probably European.  In the UK and countries over there, they care about stuff like this.  You will never find these here." (WHAT IS WRONG WITH YOU AMERICA?!  : )  ) Therefore, I did what I always do when I cannot find something in the States, I go to Ebay UK.  My first set of clips I ordered
from this seller.
  They were very nice and easy to work with.  Sadly, in the midst of all of our home renovations, the pipe clips got lost.  By the time I went back to order, my Ebay UK seller was out of the ones I needed.  I had to find another source.  Then I found
Supreme Plumb
.  On their site, they tell you they will not ship internationally, but they will.  Just email them.
Note:  When I am shipping items internationally, I always request Expedited Shipping.  It is worth the extra few dollars, and trust me, Standard Shipping from other countries these past couple of years has been a nightmare.  I bought some art for a client last year, and it was stuck in customs for MONTHS.
Just FYI, if you prefer a silver look rather than a gold, pipe clips come in chrome, too. [caption id="" align="aligncenter" width="397"]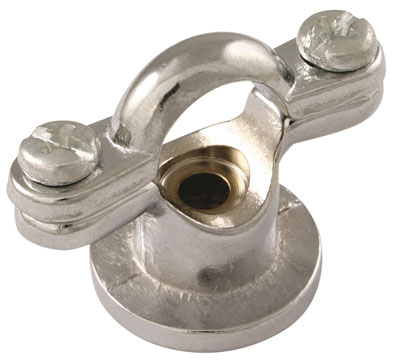 chrome pipe clip[/caption] The new pipe clips arrived, and I was ready to get started. Here is what you need...